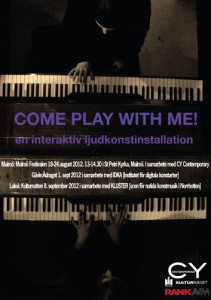 COME PLAY WITH ME! är en interaktiv ljudkonstinstallation – ett ordlöst möte i ett gemensamt ljuduniversum.
I en box med två pianon bjuds du in att leka, spela och interagera med ljud tillsammans med boxens värd. Ni ser inte varandra, ni hör varandra.
Vad händer med interaktionen när ljud och toner är det enda vi har att kommunicera med? Vad händer med vårt möte när vi uteslutande kan förlita oss på är den andres uttryck i ljud? Vad händer med vårt närvarande?. Vilket sorts möte uppstår? Hur låter vi?
COME PLAY WITH ME! är skapat av malmöbaserade ljudkonstmusiker Kirsti Øibakken Pedersen och är ett samarbete med CY Contemporary – lokalförening under RANK Riksorganisation för Nutida Konstmusik. COME PLAY WITH ME! har av RANK valts ut som en av tre Artist In Motion produktioner och åker efter Malmö Festivalen vidare på turné till Gävle och Luleå.
Malmö: Malmö Festivalen 18-24.august 2012. 13-14.30 i St Petri Kyrka, Malmö. I samarbete med CY Contemporary
Gävle:Ådraget 1. sept 2012 i samarbete med IDKA [Institutet för digitala konstarter]
Luleå: Kulturnatten 8. september 2012 i samarbete med KLUSTER [scen för nutida konstmusik i Norrbotten]
https://www.facebook.com/comeplay2011