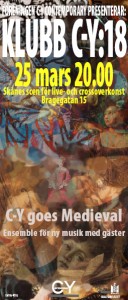 Medeltidsmusik på datorer, renässansinspirerade improvisationsformer med modernt tonmaterial och högst samtida improvisationer över gamla teman.
Klubb C-Y:18 går i den tidiga musikens tecken. Inspiration har hämtats från isorytmiska motetter, hoquetus-satser och kända, välanvända teman som L'homme Armé och Leaves be Greene.
Medverkande: Blockflöjtskvartetten RTR – Reclaim the Recorder, Stefan Klaverdal, Peter Bjuhr m fl.
20.00 25/3
Skånes Scen för Live och Crossoverkonst
Skånes konstförening Bragegatan 15
Inträde: 40 kr, gratis för medlemmar.
Är du inte medlem men iklädd historisk dräkt (fram t o m 1600-talet) bjuder C-Y på inträdet.