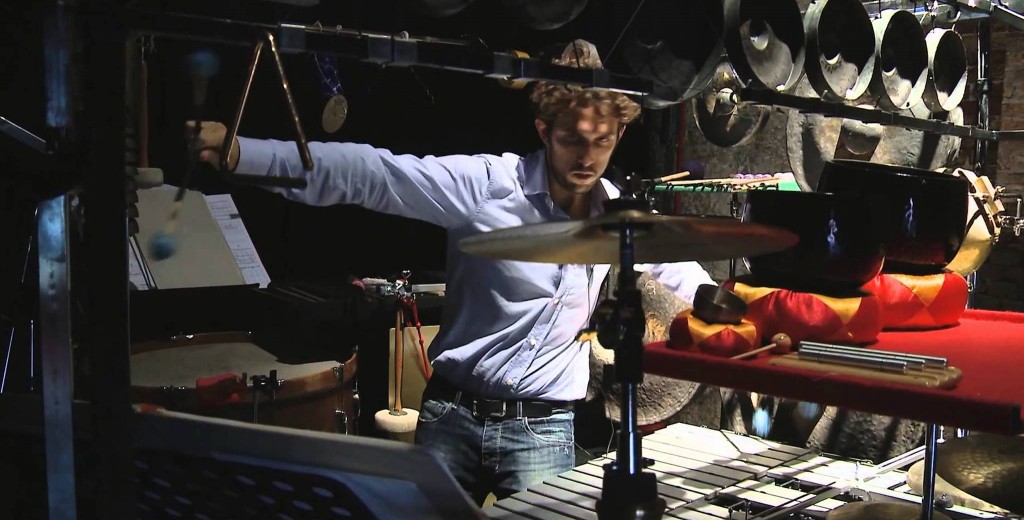 Three short concerts in one night with music by Kokoras, Del Nero, Perini, Hjorth, Monni, Söreke, Cage, Lang, Verunelli, Lundberg, Åkesson and Burtner.
5th of August, kl 19, Inter Arts Center, Malmö
6th of August, kl 19, Stenkrossen, Lund
(Doors open at 18:30)
"This is not percussion" is a series of three short concerts starting from electroacoustic music and building little by little blocks of expression through usual and unusual percussion instruments, thanks to the collaboration of our guest performer Simone Beneventi.
19:00 The first concert, "Ø to 1ØØ" will welcome the audience with a quadraphonic piece by Panayiotis Kokoras, called "Magic". This piece was composed starting from sampled sound of a piano, and in some cases it recalls the toy piano, which appears later in the concert.
20:00 "Crash test", the second concert, has Simone Beneventi as a protagonist and includes different pieces spanning from the duo to the quartet, in collaboration with Hertzbreakerz/Ars Nova. New music written for the concert will be played along some other more or less conceptual creations. This concert is supported by RANK.
21:00 The night will end with a double live set by Funkhaus Lund, which will bring their hacked, homemade devices to create an acid world of vintage and digital sounds.
The bar will be open before and after each concert.
Special guest: Simone Beneventi
In collaboration with Inter Arts Center, Ars Nova, C-Y ContemporarY, Funkhaus Lund and RANK; curated by Hertzbreakerz
Audiovisual live set by Funkhaus Lund
---
Program:
Panayiotis Kokoras: Magic – electronic music
John Cage: Suite for toy piano – for solo toy piano
David Lang: Scraping Song – for percussion
Francesca Verunelli: #3987 Magic Mauve – for one percussionist and electronics
Matthew Burtner: Mists – for computer noise controller and stone trio
Francesco Del Nero: D'un tratto – for percussion and two toy pianos
Fabio Monni: Mr. Potter 1 a.m. – for objects, tape and electronics
Josef Söreke: Interlude – for woodblocks and synthesizer
Daniel Hjorth: Toy plays in dancing woods – for percussion and amplified toy piano
Alessandro Perini: Space/Spectrum – for kalimba, three toy pianos and electronics
Nicklas Lundberg, David Åkesson Audiovisual live set